Every few months, someone brings up an article about Lowchens being one of the most expensive dogs in the world. While it is true that our beloved Lions are rare, they are truly not expensive dogs. Given their robust health, vet bills for the typical Lowchen are fairly low. Most of my lowchens only have a few hundred dollars worth of regular vet bills their entire lives to cover wellness check ups.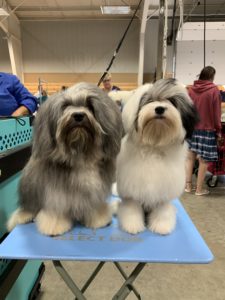 The typical cost to purchase a lowchen puppy in the United States is about $2,000 – $4,000. Higher priced puppies may include additional training, vaccines, transportation, and other valuable perks. If you add on just a few hundred dollars of vet bills over a lifetime, lowchens are extremely affordable. There are certainly other costs that you must include like grooming, toys, bedding, food, and leashes, but those are typical maintenance costs for all dogs.
All well-bred and accountably bred dogs cost time and energy to raise. Health clearances, possible sports, the cost of reproduction, and cost to provide vet care and supplies for a litter can add up to a small fortune. The time invested in raising a litter is priceless, and the relationship that I hope everyone has with their chosen breeder cannot be bought.
When you are thinking about buying any dog from a accountable breeders, please do keep in mind that you are getting you are paying for a dog that came from line of health testing and you are getting the support and mentoring you need for your dog – for a lifetime.
So while the following articles might list lowchens as being up to $12,000, you won't need to budget that much for a puppy. It is quite possible that the MYTH was started when someone asked a handler at a dog show how much their top winning lowchen would cost, and the response was $10,000. Top winning show dogs are often worth well over $10,000.
*Note that prices for intentionally bred puppies across all breeds have increased significantly. Financial pressures such as increased veterinary expenses, present challenges in transportation, and increased barriers to breeding impact prices.