What is the process for applying for a puppy? Our goal in placing puppies is to pair the home that is a perfect fit for each breed and individual puppy. To do so, we ask that each home completes our application for a puppy. After reviewing the application, we will have a screening call to discuss if the breed is a good fit. If the home is a good fit, we ask for a $500 waiting list  fee if we do not currently have a puppy or a $1,000 onboarding fee if we currently have available puppies. The waiting list fee and/or onboarding fee will be applied to the final price of the puppy. A few weeks before puppies are ready to go home, we will finalize which puppy will be paired with each home, and the remaining balance will be due upon pick up day.

Can you tell me more about the waiting list fee? Our waiting list will open ~6 months prior to a planned litter arriving(sometimes with a cobreeder). If we are not planning a litter, you will be referred to another trusted breeder who has availability. If our list is full, you may opt to wait until puppies are born, be referred to another breeder, or do both. *Lowchen homes might not get puppies from the very next litter coming as the litters are extremely small. Homes on our waiting list have already completed the application process and are ready for the Gotcha Day preparation. Gotcha Day support consists of:
Finding a local trainer
Finding a local vet
Online Training Resources
Access to our mailing list of deals on products we recommend
Assistance with selecting products for your new companion
Can you tell me more about the onboarding fee? The onboarding fee includes the same Gotcha Day support with video/Facetime with the litter. The waiting list fee is for litters that are not yet born, and the onboarding fee is for after the litter is born. These fees ensure that we can prioritize the time we spend with homes to prepare them for their new arrival. Homes that are not yet ready will not benefit from the services and mentoring if provided too far in advance.
Can you tell me why you require fees prior to pick up? Our homes prefer the security of knowing they will have a puppy (though often not the specific puppy until they are closer to Gotcha Day), being able to follow the litter as they grow, and being able to plan for transportation far in advance. Late notice in puppy availability often comes with at real cost of higher transport expenses and missing out on following the puppies grow. We will not hold puppies for homes as it is not fair to other hopeful families.
How can I pick up my puppy if I'm not local?  We have imported and exported to many countries, and we can help homes navigate the importing processes.  Here's the typical options for domestic homes outside of a short driving distance:
Fly in to pick up puppies. We are happy to bring your puppy to the airport so you can fly in and out in one day. You can read up on that process here.
Meet us at a halfway point if possible. Given our frequent travel with the dogs, it is sometimes possible for us to work in meeting homes at a closer location for pick up. These are available on a case by case basis.
Canadian homes can fly directly into MSP or cross at Grand Portage to pick up puppies in Minnesota. Canadian homes can also cross in Detroit or Port Huron to pick up puppies at our co-breeder's home in Lansing, MI.
Gotcha Day Transition Package: We will be offering on a very limited basis, a transportation package that includes delivery to your closest airport, in-home training (mostly for the humans), and grooming lessons while we are on site. This package is $500 plus all travel expenses.
Do you require us to own a home with a fenced yard? No. Both breeds can thrive in many living situations. Our dogs have lived in condos/apartments, on farms, and even van life.
Do you require someone to be home with the dogs at all time? No. It is expected that our families have responsibilities and interests outside of the home. During the early puppy years, you may have to make arrangements to let your puppy outside to relieve him/herself more frequently.
What can homes expect from Roman Reign puppies? Our breeding dogs are health tested, raised in our home following Puppy Culture protocol, and comes with our lifetime support. It is never too early and never too late to call us if you have any questions. We are available for the life of your puppies. Additionally, we are involved at a national level in both breeds and in a variety of sports. All the knowledge that we gain is used to help our homes have the best experience possible with their beloved companions.
Can you tell me about your puppy prices? Our Greater Swiss puppies are $4,000, and our Lowchen puppies are $3,800 for companions. The price of our puppies reflect the value of health testing, Puppy Culture protocol training, and lifetime support that we offer our homes. Our goal is to provide you with an excellent companion with our support from puppyhood, adulthood, and into the golden years. Our ability to provide support involves our constant education on canine health, participation in canine sports, and ongoing education and evolution in training. We also volunteer and fund health related projects.  We do offer reimbursements upon earning specific titles. *Note that prices for intentionally bred puppies across all breeds have increased significantly. Financial pressures such as increased veterinary expenses, present challenges in transportation, and increased barriers to breeding impact prices.
We also offer Lowchen puppies who train with us to age 4 months old. These puppies are started on obedience foundation. They will be leash trained, crate trained, house trained, understand the recall, heel, sit, and down. These puppies are priced at $4,800, and only on a highly limited basis. *Note: Young puppies will still need to relieve themselves more frequently than adults. All skills and commands will need to be transitioned over to the new home environment and owners. No additional training for services offered for Greater Swiss puppies at this time.
What is the realistic wait time for a Lowchen puppy? Currently, with our extensive network of accountable breeders, we have been able to connect applicants with other accountable breeders with companion puppies within 6 months or less if we do not have litters of our own. In looking at timelines owners have shared publicly when purchasing from other breeders, the realistic wait time for a companion puppy is no more than 6 months. Show prospect lowchen or specific requests for colors may be a significantly longer wait.
Do you export your puppies?  We have exported puppies to Canada, Europe, and Africa. It can be a complicated process with additional costs. We are no strangers to the import/export process for many countries, and we are happy to discuss exporting with you.
What is Puppy Culture? Puppy Culture isn't just training. It is a protocol that teaches puppies to regulate their own emotions, recover quickly after startling, enter new situations with confidence, communicate with their owners, and learn how to learn. These are key qualities that put our puppies in the best position possible for service work, performance sports, and great family pets.
What kind of vaccines will my puppy have? We've changed up our vaccine protocol in June 2023. 5 way vaccines (also referred to as puppy shots or a variant of DHPP) typically cover parvovirus, distemper, two types of adenovirus, hepatitis, and parainfluenza. We are now starting the 5 way vaccine around 9-10 weeks. The latest research findings are showing that maternal antibodies may still be present in puppies up to 18 weeks old. We recommend doing the second 5 way vaccine around 14 weeks old, and the final vaccine sometime after 18 weeks old. I also offer canine flu bivalent and kennel cough vaccine if desired. Canine flu and kennel cough vaccine decisions are based on lifestyle of your puppy.
Do you have some resources for puppies? Sure do.
What else will my puppy have at pick up?
Puppy Culture protocol training
Litter trained (most of the time). At 8 weeks, they are going in the litter box 95% of the time.
Crate conditioned started
Clicker started
AKC registration (limited) that includes 30 days of pet insurance. Completed for you online.
Registered microchip with AKC Reunite chips. Completed for you online.
Age appropriate vaccines on Gotcha Day (one round of 5 way vaccination around 9 weeks, 14 weeks, and after 18 weeks)
If desired, kennel cough vaccine
If desired, canine flu bivalent vaccine
30 days of Trupanion pet insurance
Lowchen puppies will have OFA CAER eye exams prior to pick up.
What kind of name will my puppy have? We call most puppies some type of fun nickname, but they will transition to whatever you want to call them pretty easily. You will get to select your puppy's registered name based on the litter theme with the prefix of Roman Reign.
Where are you located? We are in Minnesota, previously from Austin, TX. We moved for my day job. Litters are raised in Minnesota or with cobreeders who share out same approach and priorities. We work closely with cobreeders all over the United States.
What is a call name? What you would call your dog.
What is Clicker Started? Puppies are exposed to the sound of the clicker. At the started level, they will understand that the sound of the clicker is associated to good things.
What kind of litter does my puppy use to relieve him/herself? I use horse pellets that are commonly found at feed and farm stores. It is very easy to transition the puppies over from the pellets to grass. The Marth brand disintegrates with moisture. Depending on age, they may already be transitioned to artificial turf.
What kind of health guarantees does my puppy have? All puppies come with a 3 day full refund for any reason, and all puppies will be healthy at the time of transfer. All puppies come from health tested parents. We are happy to advise you on how to reduce the risk of communicable diseases, reduce the risk of orthopedic issues, and to help you work through any issues that may arise. We will always be happy to take back a puppy with a health issue. We cannot guarantee the future, but we guarantee that we will always be available to you and that your puppy will always be welcomed back in our home.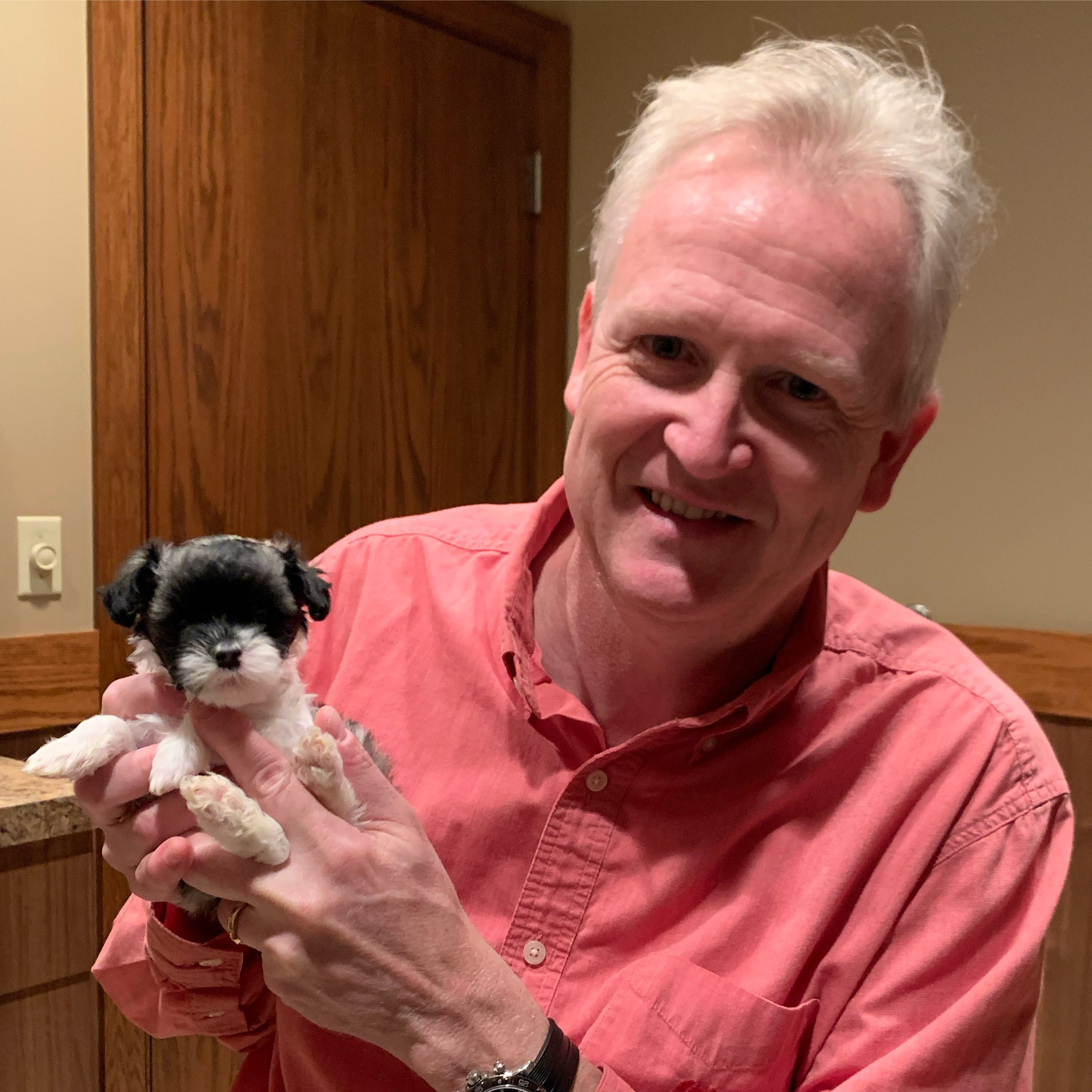 Dr. Robert Larocca with Mr. Pringle
What will my puppy be eating? We have switched over to feeding Inukshuk Marine 25. We used to feed Adult Proplan to our litters. The vast majority of our litters are eating kibble soaked in water by the time they go to new homes. We do recommend feeding adult formulated foods to puppies to keep their growth as even as possible. We recommend slow and steady growth in puppies.
Do you recommend health insurance? I currently do not. However, if I did, I would select Embrace. I do have an article about insurance to help you think about the possible costs associated with owning a dog.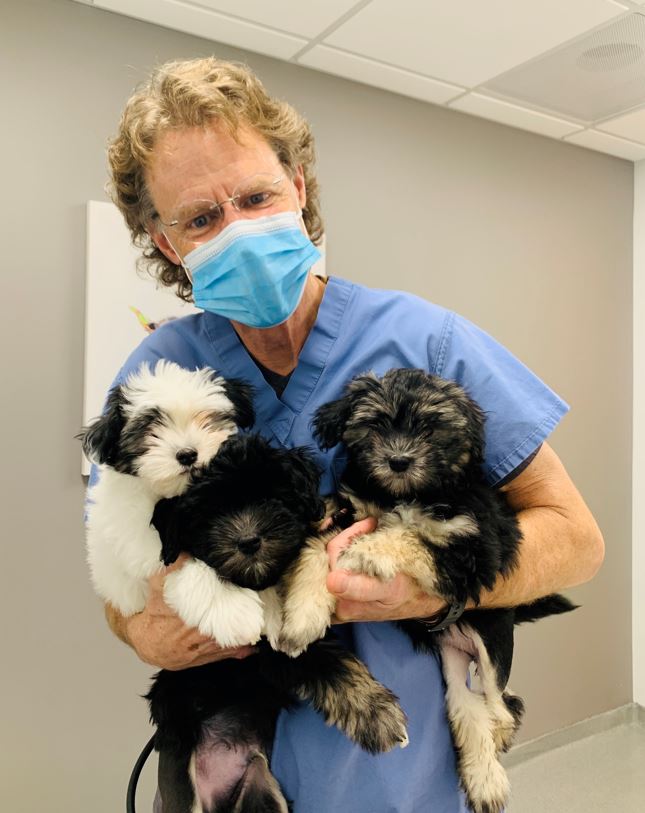 Dr. Dave Enright with our Halloween litter
What are your favorite crates? I generally recommend size 42 inch or 48 inch Midwest wire crates for Greater Swiss Mountain Dogs. Lowchens do well in 24 inch crates. For airline travel in cargo, I highly recommend the Sky Kennel brands in sizes 28 inch for Lowchens, and the 40 inch or 48 inch for Greater Swiss.
What about those fancy crates? I love both East Coast Crates and Impact Crates. They are both quality products that will last a lifetime. East Coast Crates often has show discounts and Impact Crate has Black Friday sales. I also really love the Ruffland Crates. I can help you plan your purchase if you wish or help you locate pre-loved crates for sale.
Other products I recommend:
Nature's Farmacy Complete is my favorite joint and wellness supplement.
Red Dingo Dog Tags for Greater Swiss
Zymox ear cleaner and preventative products
Lavender 256 Disinfectant Concentrate
Choco Nose Water Bottles for Lowchens
Sit up and Beg, my favorite show leads for Lowchens
Hogan Leather, show leads for big dogs
Wahl Mini Arco Clippers for Lowchens (light clipping only)
Primo Pads (crate pads)
Mes Amis Collars for every day wear.
K9 Competition Keratin and Silver lines for Lowchens in show coat
Chris Christensen slicker, pin, breezy brushes, and buttercombs
Nature's Miracle Deodorizer / enzymatic cleaner
Building Blocks for Performance by Bobbie Anderson with Tracy Libby
Culture Clash by Jean Donaldson
Don't Shoot the Dog by Karen Pryor
Calming Signals by Turid Rugaas
Control Unleashed:Creating a Focused & Confident Dog by Leslie McDevitt
Structure in Action by Pat Hastings
Tricks of the Trade by Pat Hastings
Developing Jumping Skills for Awesome Agility Dogs by Linda Mecklenburg
The Other End of the Leash by Patricia McConnell
Water Work, Water Play by Judi Adler
Get $20 off your first pair of Rothy's, my favorite dog show and work shoe!