Raising puppies is a labor of love, and we do so with the goal of producing puppies that we'd want to have living in our homes, on our couches, on our beds, and embedded into our hearts. Our litters are born in my home office, and they get to attend conference calls on a regular basis. We are equipped with state of the art neonatal care equipment to ensure that we are able to manage surprises.

Visit our other training articles here:
We use the Puppy Culture protocol to teach puppies to regulate their own emotions, recover quickly after startling, enter new situations with confidence, communicate with their owners, and learn how to learn. These are key qualities that put our puppies in the best position possible for service work, performance sports, and great family pets. While the first 8 weeks of life with us do not dictate the final outcome as adults, this type of enrichment contributes to the nurture part of behavior. Behavior is a complex mixture of nature, nurture, the current situation, and dynamics.
In addition, we are always trying new methods, exercises, and experiences to keep advancing our puppy raising methods. Here are examples of the outcomes because of how our litters are raised.
Easy Travelers: We take the puppies for car rides as soon as they are born, quite literally. By 10 days old, they have been in a vehicle at least three times. Starting around week three, they have been through a car wash regularly to hear the sounds and vibration against the car. By the time they are 8 weeks old, they have ridden in cars in crates for at least 10+ hours broken up into several trips.
Out and about: Our puppies frequently visit new environments safely. Once they have had their initial vaccination, we start visiting low risk environments such as dog friendly stores, the automotive shop, and offices. Instead of allowing puppies to explore these places on leash, we carry them to control the type of interactions they have with other people and to reduce the risk to disease exposure. This method also teaches them that when they are out in public, there is no need behave impulsively when they encounter new people and new places. As they gain more immunity, we adjust the type of interactions and places we visit.
Fast Recovery from Startle: At three weeks old, we start our startle protocol as described in the Puppy Culture Protocol. At this age, puppies will recover quickly to being startled. We slam doors, bang on pots, and drop objects. This teaches the puppies to learn to quickly assess the situation after a startle. As adults, we see a larger percentage of our puppies who have little to no sensitivity to loud noises, a preventative to thunderstorm phobia, and confidence during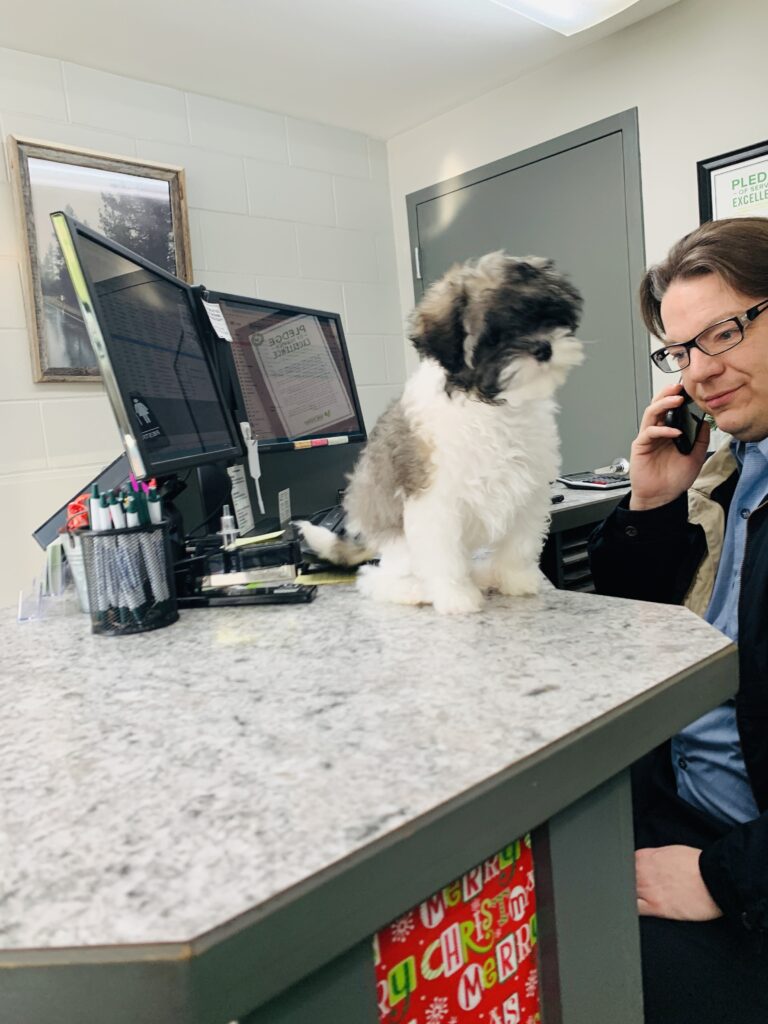 fireworks (indoors of course!). We stop this protocol as soon as we notice the puppies have passed the stage where they will have automatic recovery.
Confidence on unsteady surfaces: In addition to exposure to novel objects and surfaces, we actively teach our puppies to take unsteady footing in stride. We use wobble boards, swings, a slow moving treadmill, a vibration therapy plate, and other toys to give them opportunities to build confidence on wiggling surfaces. As adults, unsteady surfaces and footing do not deter them.
View this post on Instagram